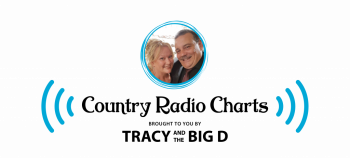 To become an official voter for the weekly Country Radio Charts please complete the registration.  To ensure quality and to maintain the integrity of data being used we request all voters have an existing association within the radio industry.  If you have any questions or are unsure if you will be eligible to become a voter, please select 'Other' from the menu on the Registration Form.  Once your information has been verified you will receive an email explaining the simple process of casting your weekly votes. 

We are excited to announce the official launch of Country Radio Charts by Tracy & The Big D.  After years of planning and development we are very proud to share this news with you and invite your contribution to help us continue the growth of the Country Music industry.
The purpose of the new Country Radio Charts is to accurately capture the popularity of current singles using the experience and insights of people associated within the Country Music Radio Industry. 
The Country Radio Charts will reflect the impact a current single is having via Radio Airplay, Interview & Promo requests from stations, Listener Requests, Social Media and other streaming platforms activity.
The trustworthiness of the Charts will be maintained using a process that is both transparent and trusted to provide data with integrity.  To ensure a wide VARIETY of genre's under the Country music banner is being represented, Country Radio Charts source reports from Radio stations, daily notifications received of new releases via distribution centres, agents, Managers, Industry leaders and artist themselves. This will make up the 80 most reported singles and will go to our subscribed voters each week.  Once voted on, 80 will become the top 40 Country Radio Charts.  We welcome all feedback and submissions to our weekly data collected.
Our aim is to create a chart for current Country Music Singles using the valuable input provided by industry experts to deliver a music chart that our industry is truly proud to be associated with. 
Tracy & The Big D